Splurging on a vacation or iPhone 11 is enticing. But, as a homeowner, sinking a tax refund into a home improvement project may be a smarter, wiser investment. Especially if your debts are under control, says Lisa Greene-Lewis, a certified public accountant and tax professional at TurboTax, it can increase your property value. 
As we approach the deadline for filing personal income tax returns for 2019, many homeowners are nervously waiting for their tax refund check. Are you anticipating a significant return this year? You may want to consider investing your tax refund in a home improvement project such as replacing your home siding, which adds tremendous value to your property. Tackling a home improvement project could increase the enjoyment of the home. It will also add to the curb appeal and/or fix a longstanding issue that needs repair. 
According to the Internal Revenue Service, the average income-tax refund is slated to be around $2,869. That's enough to lay a good downpayment on a number of upgrades, from home siding to roof repairs. Receiving a sizable tax refund from the IRS might just be the motivation you need to address some long-wanted or anticipated home improvement projects.
Choose the Right Home Improvement Project to Invest Your Tax Refund
If a financial investment is your top priority, then it is smart to focus on the home improvements that are likely to offer the greatest return. Annually the Remodeling Magazine publishes a Cost Vs Value report analyzing how popular renovation and home improvement projects yield in terms of their average cost and the ROI (return on investment).
On average, many home improvement projects are not proportionate and do not add significant value to the home's property to fully recoup the cost. Every project is different and will not always fit these parameters. For example, if a home is older and is located in a neighborhood where many of the surrounding properties have been fully renovated, it is very likely to see a great return on investment by updating the exterior amenities and making much-needed refreshments to the facade.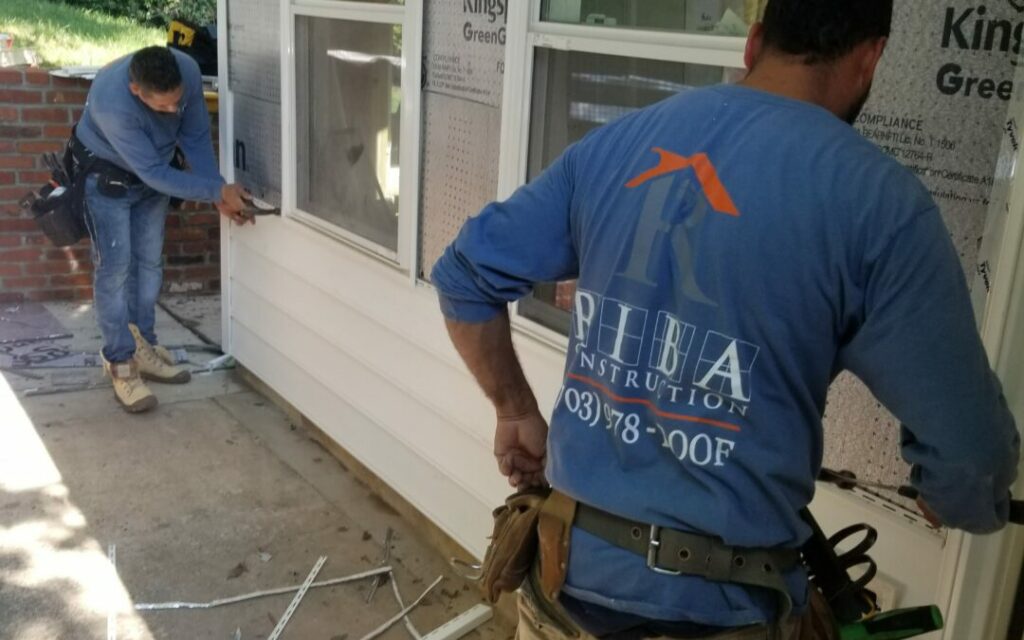 This list of home improvement projects, from home siding to installing a deck, is likely to offer a valuable return on the investment:
Refresh Your Exterior
Spring is the perfect time to replace your siding. Vinyl siding and fiber cement siding are both great options for protecting your home's exterior. Changing out your home siding not only boosts your property's value but will add to your energy savings. Your tax refund will, in turn, decrease your annual utility bills. That's a double win. Let RIBA Construction help you select the right home siding to increase your home's protection, keeping your budget in mind. Also, consider other exterior cosmetic changes such as adding architectural trim elements to the windows.
Start or Refinish Your Deck
A deck is a highly desirable amenity. It's a perfect place to gather and entertain friends and family on warm summer nights and throughout the year. If you don't already have a deck, your tax return could be that down payment you need to make you dream a reality. Do you already have a deck you enjoy but it needs a face-lift? Consider restaining, waterproofing, replacing panels, adding different platforms or constructing a built-in sitting area.
You may not be able to change your view literally, but your visibility and energy savings can be altered. The benefits are numerous: They'll last for decades, enhance your curb appeal and lower your energy bills. Perhaps best of all, new windows require very little maintenance and are easy to clean.
Replace Your Roof 
With the amazing changes in climate and treacherous storms, our roofs are often first to see the sign of wear. Call RIBA Construction to come out and inspect your roof for damage. Your tax return refund will be well invested saving you potential leaks and structural damage issues down the line.
With your tax return in hand, there is no time like the present to start paying attention to your garage. It is the home's often forgotten, glorified storage shed. Quality built-in cabinetry can serve as an attractive storage solution. While a new garage door will enhance a once outdated space.
Home Improvement Investment Potential
When considering investing your tax refund on a home improvement project, it's important to keep in mind what the average homeowner will find compelling. You might love that unique home siding color, but if the goal is for future buyers to love the home, it's a good rule to select more neutral, more classic fixtures, colors, and materials. 
Need help deciding where to start on your next home improvement project? Let our professional Class A licensed contractors take a look and give you a 100% free consultation. We make recommendations and decisions on the customer's needs and budget and not on getting a commission from the manufacturer. Put your tax refund to work for you by investing in your home. RIBA Construction is here to help! Contact us today.